Christine Michel Carter is a well-known public figure that we have been hearing a lot about (and following) at the MOM.CEO office. So when Christine agreed to be interviewed, it created a fair amount of 'brainstorming' as to which questions would generate the most value for our readers and which questions we've asked other influential MOM.CEOs in order to get her unique take on them.
We can say with pride, that our exclusive interview with Christine Michel Carter did not disappoint us!
MOM.CEO: What do you believe is the secret to raising good kids while successfully growing a company without compromising one or the other?
Christine Michel Carter: I don't have a strict work schedule and my colleagues understand that my family obligations come first. I understand that not every mother is lucky enough to be in this position, and having a work-life balance is a far-fetched idea for most people.
I was once told independence is a spectrum, and the only way a mother can achieve true work-life balance is by relying on the help of others. This includes everyone in her circle, from her employer to partner & friends. I find the moms who are having challenges balancing work and life, are the ones who just can't bring themselves to say anything to their circle other than, "I'm fine." That's easier said than done and even I struggle with that, but to balance your worlds, you've got to ask for and accept help.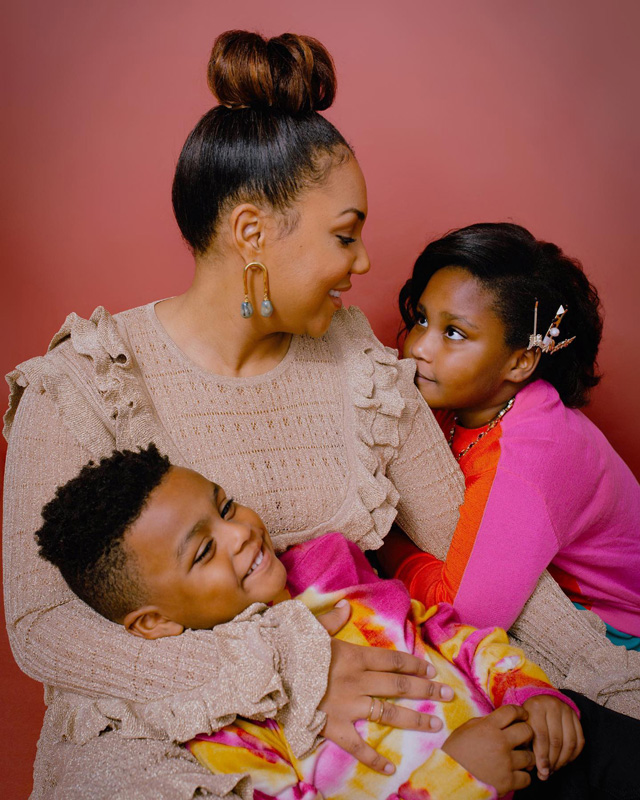 Christine Michel Carter with her children, Maya and West.
MOM.CEO: You're the creator of Mompreneur and Me – Could you tell us more about this?
Christine Michel Carter: I often hear due to household responsibilities that moms have very little time left for sponsorship and networking. I know what that feels like. That's why I created Mompreneur and Me events, which are inclusive parent and child-friendly networking events. Moms no longer need to feel guilty for wanting to focus on their careers or for leaving their children to do so. Therefore, their children are with them at the event and they're in a room with like-minded entrepreneurial women. Plus the events are nationwide and free, which everyone loves.
For one hour, moms and their children exercise together, doing anything from bowling to cooking classes to yoga. For the second hour, the kids are watched by trained childcare professionals and the moms work on activities to develop themselves professionally, from advocating for themselves to resume writing. We work on these professional development activities because impeccable networking and communication skills help moms get noticed by prospective employers, and communicating new innovative ideas in a clear and confident way can set moms apart from their peers without children.
MOM.CEO: Are you capable of separating work and home life, and if yes, what's your secret?
Christine Michel Carter: My secret is bringing my authentic self into all spaces. My work colleagues know that I believe motherhood makes a professional stronger in the workplace, and my kids know they always come first, but Mommy values work a great deal. There are periods where you are not spending as much time with your kids due to work, and there are times when your work is pushed to the side because you need to walk away from the company, recharge, practice self-care, and have time with your children. It always ebbs and flows.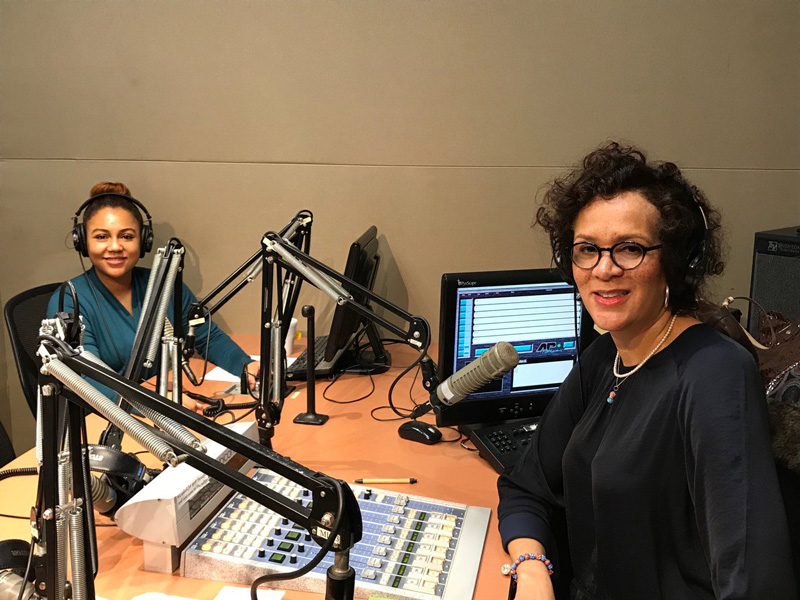 Christine Michel Carter has a consistently busy schedule with public speaking and interviews.
MOM.CEO: What top lessons did your parent or mentor give you that you feel are still relevant in today's digitally connected world?
Christine Michel Carter: The closest traumatic event I have experienced to COVID-19 is when I separated from my husband. I tried to just push through it but the fervent mental reprogramming wore me out mentally and emotionally. In that experience, it wasn't until my aunt (and mom mentor) told me to give into my current situation that I finally transformed and thrived.
"I gave into feeling it and experiencing the emotions."
Instead of spinning your wheels on obligations you'll never get to or will never remember, delegate to the others in your house, or in your proverbial village. If you've got a partner, put them in charge of the must-dos.
"Delegate, delegate, delegate, and stop feeling so guilty that you're not superwoman—no one is."
We are all worthy of our feelings. It is possible to have good feelings like empathy, gratitude, and joy at the same time you're having heavier feelings like sadness, loneliness, or grief. That's how humans work. For example: on any given day, I feel frustrated, exhausted, anxious, stressed, and agitated with my family. On that same day, I may also feel true joy, peace, gratitude, relief, and deep love towards my family.
MOM.CEO: Do you feel that MOM.CEOs have a harder time balancing their work/life duties than DAD.CEOs?
Christine Michel Carter: I am Chicken Little. I ran around telling everyone that the work-life balance sky was falling, and people accused me of being unreasonably afraid and dismissed me. But now people are saying:
"Christine you know what? The sky IS falling."
I've been writing about the housework gap and the challenges that today's working mother faces for the past five years. I wrote about the looming 2020 recession two years ago. And I knew there would be a major event that would shift the sustainability of our so-called "work-life balance." That major event was COVID-19. The world is now exposed to the fact that even in married, two-income households, women are three times more likely to be the spouse carrying the additional "mental load" of household responsibilities. As it affects their hiring and promotion potential.
Motherhood costs women $16,000 per year in lost wages.
For every dollar a man makes, mothers make just 71 cents. And for fathers working remotely full-time are three times more likely than mothers in the same situation to make $100,000 or more.
MOM.CEOs are having a harder time balancing their work/life duties than DAD.CEOs and it's been proven by The New York Times. Even though men and women are both doing more, the results suggest they aren't dividing the work any differently or more equitably than they were before. Past research using time diaries has consistently shown that men often overestimate the amount they do and that women do more. Many researchers and couples assumed women were bearing the brunt of the extra labor during the pandemic, but this is among the first efforts to quantify it at a national level. The extra time women spend on housework hurts their careers and paychecks. ALREADY, 28% of women, but just 19% of men have cut back on their paid work - in couples that are both working from home full time.
MOM.CEO: Do you believe it's smart for a parent to invest financially in their kid's start-up?
Christine Michel Carter: I do believe it's smart for a parent to invest financially in their kid's startup if the child has a sound business plan and has spent at least two years developing the startup without their support. I've coached my kids in the art of business and they understand the basic principles of supply and demand, revenue, and profit. I've also shown them how being a mother has made me a better businesswoman.
For my first book Can Mommy Go To Work?, my kids were involved in the entire publishing process. They picked out what their characters wore, provided feedback on the plot, and even created promotional videos for the book.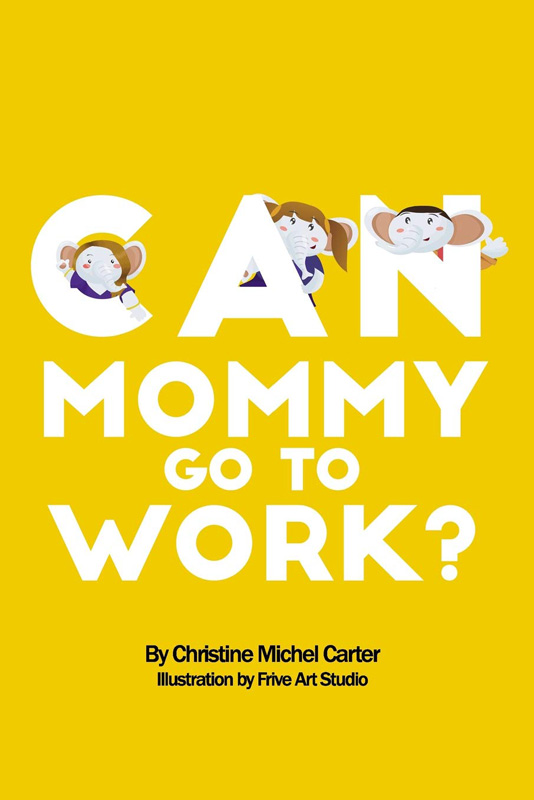 Can Mommy Go to Work is available on Amazon
I've told them that motherhood demonstrates leadership ability. For your personal brand, it validates your patience and problem-solving skills. You ARE willing to take on new opportunities. You ARE willing to assess the situation and look at all possible solutions. That is motherhood on a daily basis! The skills you acquire as a mother are undoubtedly transferable.
MOM.CEO: What would be your top 5 tips for being a successful MOM.CEO?
Christine Michel Carter:
1. Take a personal health day.
2. Take breaks throughout the day, as cleansing the mind fosters more opportunities to create groundbreaking ideas.
3. Make time for self-care every day.
4. Once you become the smartest person in the room, move on to another room so you can keep growing.
5. Bring your authentic self (motherhood) to work every day.
MOM.CEO: The word NO is a powerful word in business, but how does its meaning work in your home or is it the opposite with YES?
Christine Michel Carter: My mother taught me first and foremost in the power of never settling or harming yourself to please others, even your children. They'll learn boundaries from the boundaries you set.
Therefore, NO in my home means I'm prioritizing something else, not that the idea was bad. In most instances, my kids know that if I'm saying NO, it really means not at this time. Sometimes I'm saying NO because I'm prioritizing myself and my needs, and that's okay. Ultimately, it makes me a better mother.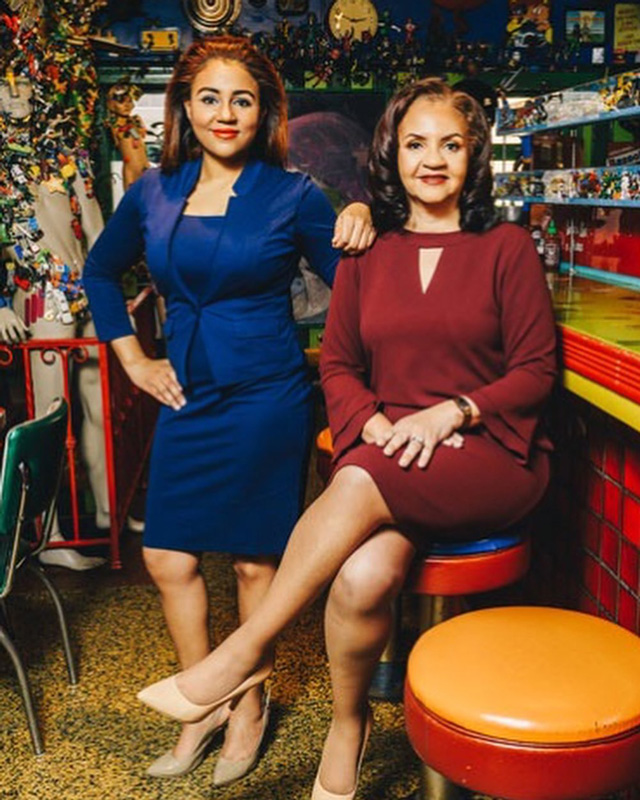 Christine Michel Carter with her mother.
MOM.CEO: What did you sacrifice in order to become an impactful leader while raising children?
Christine Michel Carter: I sacrificed my marriage, but I do not have any regrets. I got married young, and we did everything previous generations taught us to do. We bought a giant house and had a substantial two-person income, but we were miserable. My husband was depressed, and I suffered from anxiety. We were living others' expectations for us, and the financial wealth didn't make us feel free. So we decided to divorce. For our happiness (and the happiness of our children) we were willing to let go of outdated notions of what it means to love another human being, raise a family, and be free.
Today's society pushes a very confusing message. On the one hand, Millennials are told that we should fight for our rights and a seat at the table. But on the other hand, we're told to keep traditional family values. Why? Holding on to those outdated notions made our mothers feel unhappy, isolated, and insane. What effect do you think it will have on us?
We're holding higher job titles and dealing with more pressures than previous generations, yet we want to believe like those previous generations that our traditional family values and eventual financial wealth will bring us freedom. This is simply False.
In order to be an impactful leader and mother, I knew that I had to stop following the definition of insanity.
"Doing the same thing over and over and expecting different results."
MOM.CEO: How do you want to look back and be remembered as a MOM and a CEO?
Christine Michel Carter: I want my children to be proud of me. The work I've done advocating for other women, the constant efforts I've put into raising them, and some of the tough calls I had to make. As a CEO, I'd like others to admire my empathy, as I believe we could all exhibit (even outside of a global pandemic) more empathy towards our colleagues in the workplace.
MOM.CEO: Any last words of wisdom?
Christine Michel Carter: I find that what bothers women most is their lack of control with COVID-19 (who knows when we'll return to "normal", right?) And in moments where we can't control, we tend to look for and micromanage the things we can. Hence, insisting kids keep rooms clean, do schoolwork, etc. But the reality is, and I really just want to stress here,
"if you're surviving you're doing enough."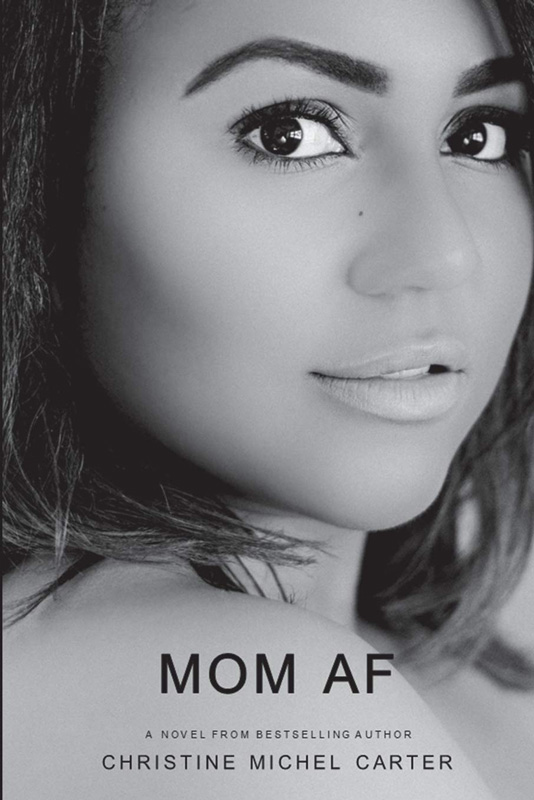 Christine Michel Carter's book MOM AF is available on Amazon
ABOUT CHRISTINE MICHEL CARTER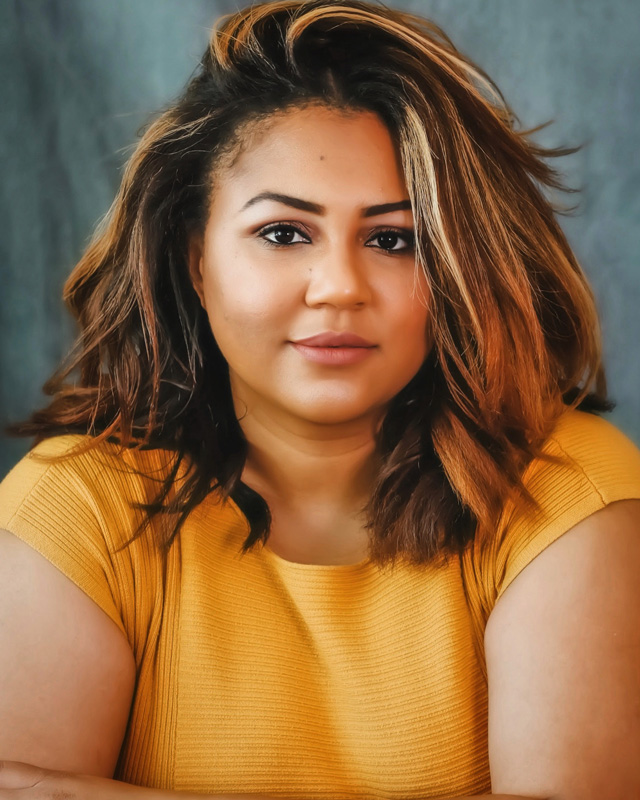 Best-selling author Christine Michel Carter is the #1 global voice for working moms.
Christine's voice transpires across miles into the heart, mind, and soul of moms everywhere. Women in the United States, Canada, Africa, Australia, France, the UK, Spain, China, and India love her writing; it's reflected in her international social media following and above-average social media engagement rates.
At home, she's Mommy to Maya and West, the two cutest damn kids on the planet.