MOM.CEO: You're a leader and a committed Mom, what's your secret to making it work?
Tessy Antony de Nassau: As a single mom, it's not easy to do all the things I do in my everyday life. My secret is to never over-promise anything to anyone starting with my children and only to commit to work, travels, projects, etc. which make me happy, which I believe in, and which bring good to our communities.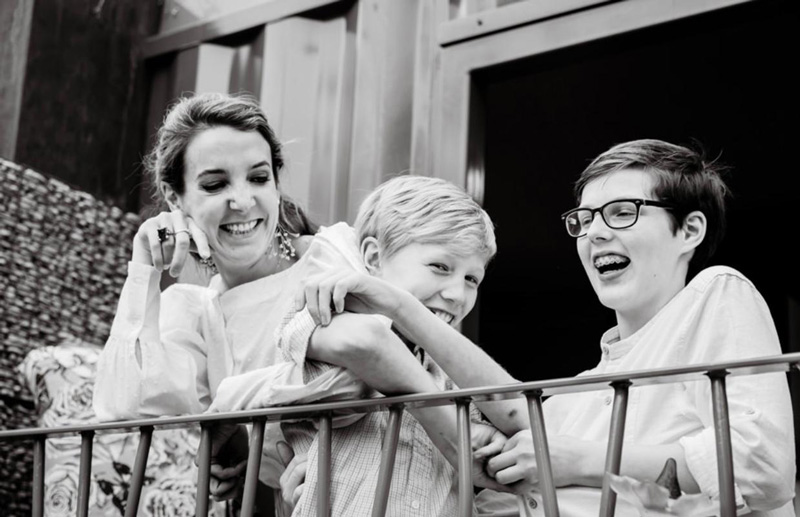 Tessy enjoying a positive moment with her two sons.
MOM.CEO: Do you believe that MOM.CEOs have it harder at balancing their work/life duties than DAD.CEOs?
Tessy Antony de Nassau: Yes, sadly being a working mom is not always a walk in the park. My personal experience has been that I was looked down on when I decided to leave at 6 pm to go and cook for my kids even though my work contract at the time said from 8-5 pm.
However, I have seen firsthand that when a dad said he needed to go home to look after his little one, the reaction was softer, more supportive almost like "What a man! What a great dad!". Therefore, When we women do exactly the same, it is just being seen as normal and it has often negative consequences on our image and our work ethics.
To be honest, I am unsure how to change this disbalance between mothers and fathers and how each is perceived for the same actions and work. I think, whoever comes up with that million-dollar solution will receive a Nobel prize!
However, reality put aside, I do see a positive change in how both genders are being perceived at work while being parents which is a good thing and that gives me hope.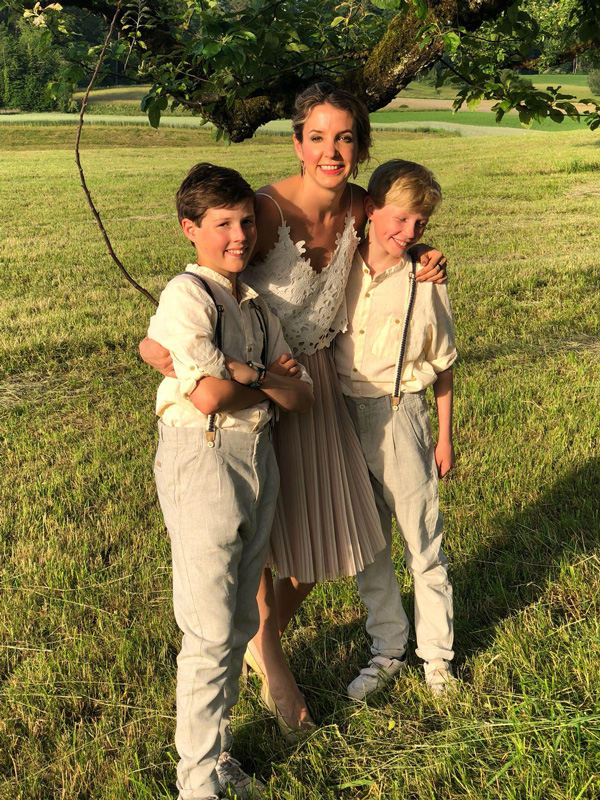 Spending focused time with her 2 favorite men in her life is vital for Tessy.
MOM.CEO: Being a public figure, what has been the hardest lesson you have had to learn about balancing being a leader and a mother?
Tessy Antony de Nassau: Being a public figure, I need to be extra careful about what I do and what I say. Every move is watched and can be used against me. Therefore, as a public figure, having a degree, and doing a good job is not the only thing individuals will look at. A leader needs to lead with compassion and integrity. That is no different for a publicly exposed person.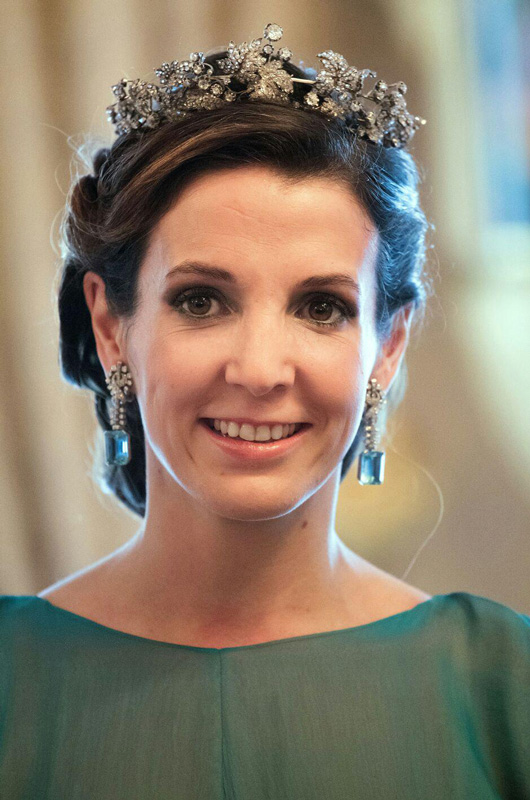 Being a public figure can sometimes be challenging.
MOM.CEO: Being on the road a lot, how do you make time at home count with your children?
Tessy Antony de Nassau: Communication is key at all times. We discuss everything within our family unit. I try to take my children with me to as many conferences and business travels as possible. My boys love it too. Of course, this means added organization and creates another layer of negotiations with clients and conference organizers who are willing to accept that I bring my children with me. I've had situations where I declined to participate in conferences because of my children's attendance. This can be disappointing because I believe that my children can learn so much from attending these conferences.
In any case, I know that my kids are lucky to travel with me for my work as much as they do. They love it and we spent some quality time together. I do hope deep down in my heart that my work inspires them and by seeing me do it, that they will one day continue my work and my legacy and change the world for the better.
MOM.CEO: What lessons are you hoping to instill in your children to help influence them in their future success?
"Time is their most valuable commodity. Use it wisely and with huge respect."
MOM.CEO: Can you share with us the most challenging situation you had to face and succeeded in being a mother who is also a high-level leader?
Tessy Antony de Nassau: The most challenging situation was and continuously remains my time management and the ability to juggle all my different tasks. I try at all times to put the needs of my children first. My business travels are always discussed within my little family to make sure that my children are ok with me to travel. Of course, there is also the reality that I need to earn my living in order to pay for whatever we need in our family. Hence, sometimes, thus rarely, I have a conflict at home where my children confront me with the reality that I work too much. However, I am very lucky as they always do finish this argument by saying that they appreciate my hard work as they know it is for them that I do it.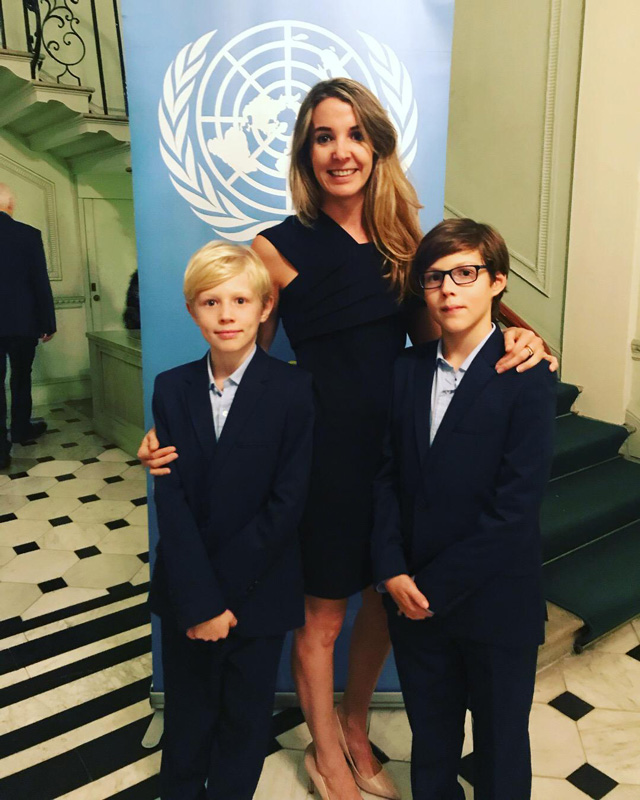 Traveling with her family for business.
MOM.CEO: Do you believe it's smart for a parent to invest financially in their kid's start-up?
Tessy Antony de Nassau: Of course, I would totally invest in my child's startup if I would be allowed to sit on the board and help them in the background with my opinion and guidance. Hence, I would think by doing it like that I would give them the money but not without strings attached to some extent. They would need to also work with me and accept my opinion. I have many friend's parents who have been seed investors in their businesses. I find it beautiful as it shows to the child that the parents believe in their work and vision.
MOM.CEO: Being a leader and at the top of your game. what's the best present a person can give you on your birthday (from friends or your children)?
Tessy Antony de Nassau: Their time and love. As I work so much that on my birthday all I want is to be with my family and friends and just let myself be celebrated and have fun. Spending time with my family and friends is the biggest gift as I travel so much for work and do not often have the opportunity to see them all at once. Of course, a huge red velvet cake is always a great joy!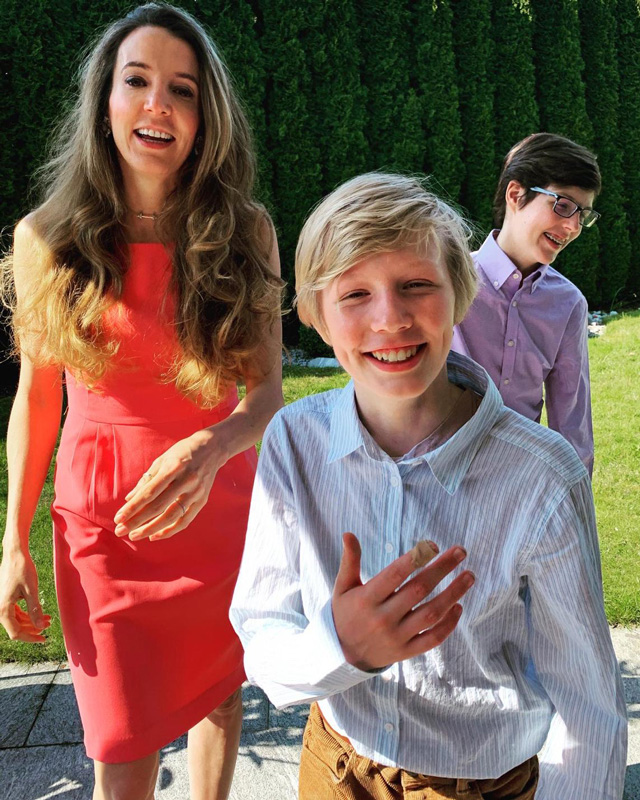 Being with family and close friends is the biggest gift of all!
MOM.CEO: We understand that you are a strong supporter of women's education and empowerment with your consulting group Finding Butterflies. Can you tell us about this and how others can get involved?
Tessy Antony de Nassau: Finding Butterflies Consulting has been a dream of mine for a very long time. I always wanted to create my own company which not only allowed me to be the master of my own destiny but also it would allow me to choose who to work with.
FBC is a consultancy focused on impact projects in the domain of education and women inclusion. I do literally everything for my clients from campaigns to client relations to expansion, strategy, and being the public face of the client. It's fun and very bespoke to each client.
FBC addresses the client's needs in the domains of communication, board memberships, ambassadorial ships, conference speaker, and so on.
On the other hand, I have also my charity Professors Without Borders which I launched 4 years ago with two friends of mine. We now work in 6 regions around the world and we are aiming to grow more in the near future. One can get involved by visiting our website and apply to either come and teach with us or volunteer their skill and time, as well as help with operations and fundraising. All help is welcomed. My whole team and I work in the charity on our own time with no remuneration. It is a labor of love towards global youth.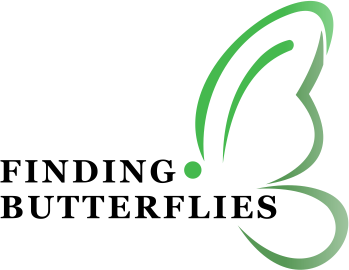 MOM.CEO: How do you want to look back and be remembered as a MOM.CEO?
Tessy Antony de Nassau: I would like to be remembered as a person who tried her very best every day and never gave up. I have fallen many times in my personal life such as through my divorce, or my work life. However, I kept moving forward and this makes me very proud. I hope that I can inspire other individuals to keep strong and to keep moving forward no matter what. Where there is a will there is always a way!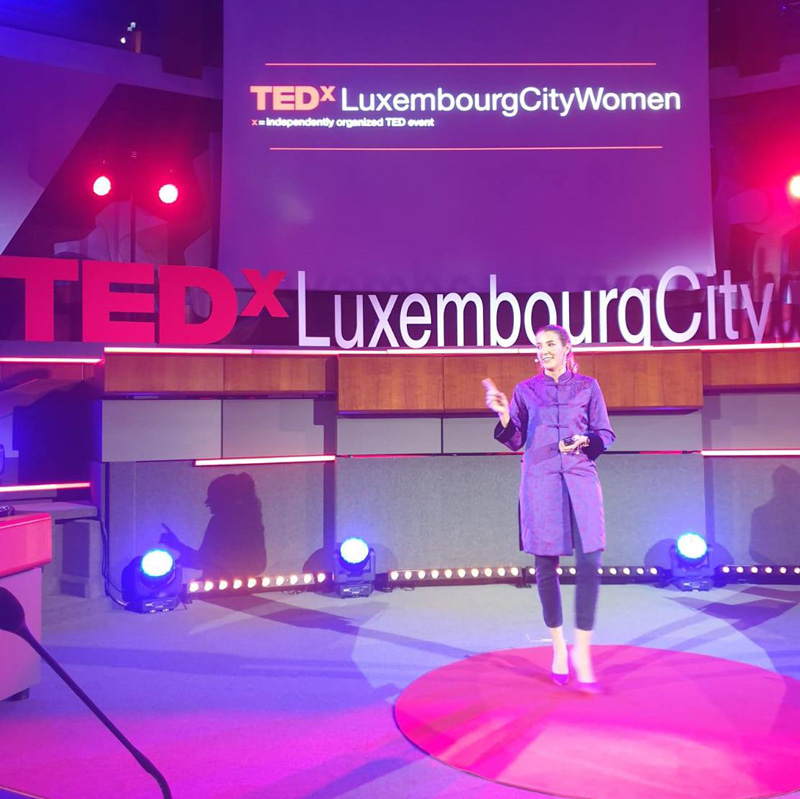 Speaking at TEDx in Luxembourg.
MOM.CEO: What top 3 lessons did your parents give you that you feel are still relevant in today's digitally connected world?
Tessy Antony de Nassau:
1) Be mindful of people's time
2) Always stay kind and don't judge
3) Keep listening and engage with people in person as much as possible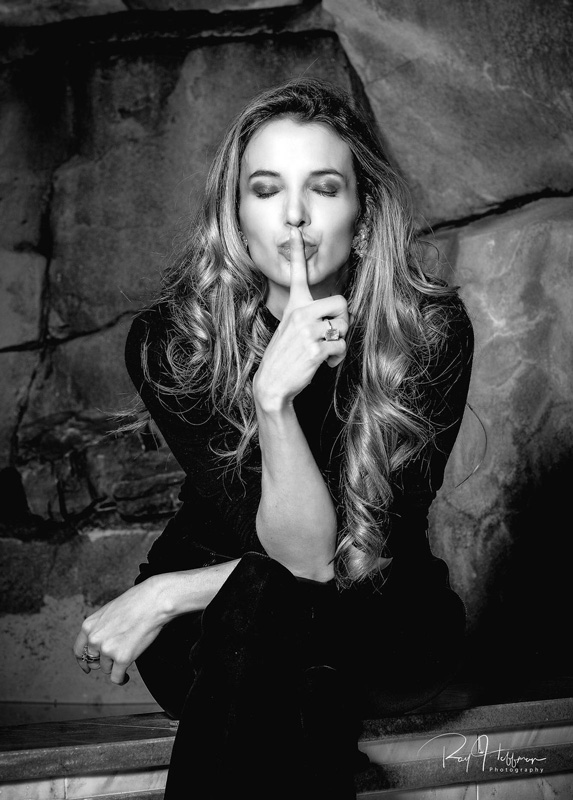 Listening is a true art form that pays large dividends!
MOM.CEO: Any last words of wisdom? tricks? Etc. on being a MOM.CEO you would like to leave us with?
Tessy Antony de Nassau:
"No one is perfect."
As a MOM.CEO, you shouldn't be so hard on yourself. Yes, I also have my moments where I feel like a bad mother or a failure, and you know what, that's ok! This is all part of the reality of being a working mother. Invest in your weaknesses and if you really don't like where you are in life or at work then change it. Change is constant, don't be afraid of it, and definitely don't sell yourself short!
"Know your worth and respect yourself."
No one is able to put you into a box if you do not allow them to do so. Never forget that!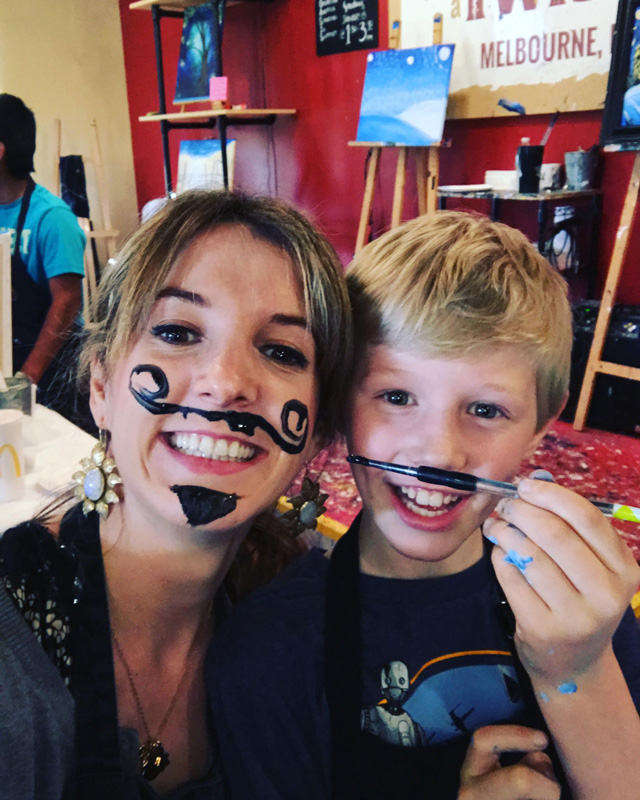 Don't take yourself too seriously and enjoy the time you have with your children!
About Tessy (HRH Princess De Luxembourg) Antony de Nassau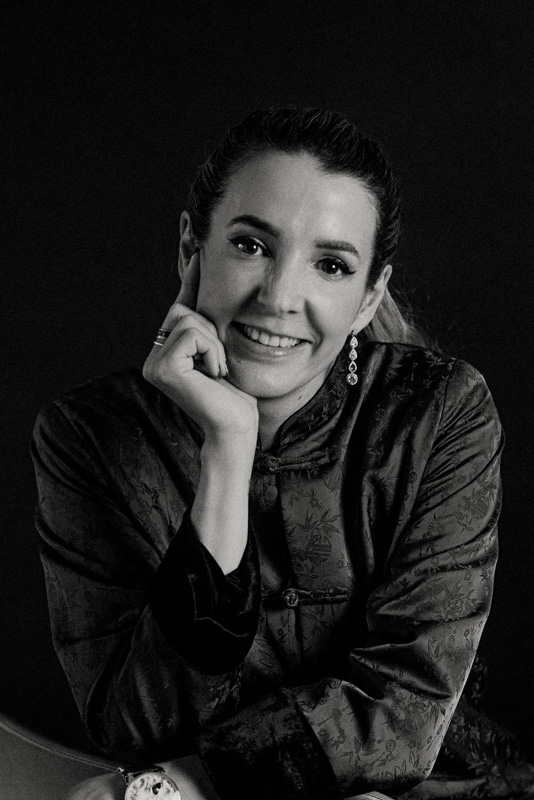 Tessy Antony de Nassau, Director, and Co-Founder of Professors Without Borders
Tessy is a Social Entrepreneur, Business Woman, Philanthropist, UNAids Ambassador, Public Speaker, Activist, and Mother.
She is the Founder of the Global consultancy 'Finding Butterflies Consultancy Ltd'. www.findingbutterflies.com
Some of her clients include(d) Montessori St. Nicholas Group in the UK, Vodafone Foundation Luxembourg, KPMG New Zealand, and Nexus among others. Tessy is also the newly appointed associate at LSEideas at the London School of Economics.
Her commitments to education can also be seen in her Foundation, Professors Without Borders – which brings top-level educators and global experts to the doorsteps of students worldwide, in order to develop talent.
Moreover, Tessy is an ambassador for UNAIDS (Global Advocate for Young Women and Adolescent Girls) and is the patron to UNA-UK. In the past, She spent five years in the Luxembourg military, during which she was deployed in Kosovo as a peacekeeper and the only woman of her draft.
Tessy actively promotes a number of issues, including global health and women's rights. She is passionate about pushing her different agendas to benefit the Sustainable Development Goals and has committed her time and energy to further the work of organizations in which she believes in. Moreover, she is actively committed to strengthening basic human rights for all and empowering young women and adolescent girls around the world. She got bestowed the Dame Grand Cross of Order of Adolphe of Nassau from HRH Grand Duc Henri of Luxembourg. Moreover, she received the Woman of the Decade award from the Women Economic Forum in January 2017, the Humanities medal for spreading humanistic ideas worldwide, and the Global Empowerment Award for her work in Africa. She was named "Leader of the Year 2019" by the Leadership Academy in Luxembourg.
Tessy received her Honorary Doctorate for her work in and around education globally from the Paris College of Arts in May 2019.
In 2019 Tessy was awarded distinctions for her work in education and women empowerment globally namely:
• Dame Grand Cross of the Order of the Drum received from HE The Majesty the King of Rwanda, London UK
• NATO Medal of recognition for her Deployment to Kosovo, Luxembourg 2004
• United Nations Peacekeeping Medal of recognition for her deployment to Kosovo, Luxembourg 2004
• Legacy Resident Recognition for Efforts to improve access to Higher Education around the world by the Beverly Hills City Council, California
• Knight of the Order Lafayette by the Order Lafayette, Switzerland
• Pioneer of Growth & Economic Development Award by The Los Angeles City and The Honourable Council of Jamaica in Los Angeles, California
• Pestalozzi Cross of Merit from the International Pestalozzi Gesellschaft, Switzerland
• Chairman's Commendation for global Leadership for Youth and Women Empowerment, London UK
• TIAW World of Difference Award for the outstanding contribution of making all the difference in the world to the economic empowerment of women, Australia
Tessy holds an MSc in International Studies and Diplomacy. She has certifications in Sustainable Business from the Harvard Business School and Pandemics and Epidemics from the University of California. She also holds a diploma and has actively worked for 8 years as a trauma psychologist in Luxembourg.
Currently, Tessy lives in London with her two sons but is often traveling for her various work projects.