No one truly knows where the future of tourism is headed as COVID-19 has halted all travel or should we say 'non-travel'.
As it's in our human DNA to dream, explore, and discover, MOM.CEO is proud to interview the most important 'INFLUENCERS' from around the world: Les Clefs d'Or Concierges from the leading 5-star hotels who will help remind us why discovering new cities and countries is so important and why we must be ready to start planning to travel again very soon!
DISCOVER: Athens, Greece
CHEF CONCIERGE: George Vournazos, Four Seasons Astir Palace Hotel, Athens (Member of Les Clefs d'Or International)
MOM.CEO: Why come to your city and country? When is the best time to come and why?
George Vournasoz: With the recent Pandemic outbreak, the Greek people have shown unparalleled discipline, making Greece an exemplary European country, having one of the lowest numbers of cases measured, with respect to its overall population. As a result of those timely actions taken, we are now ready to once again welcome our guests with the same efficiency that made us overcome this outbreak as immaculately as we did.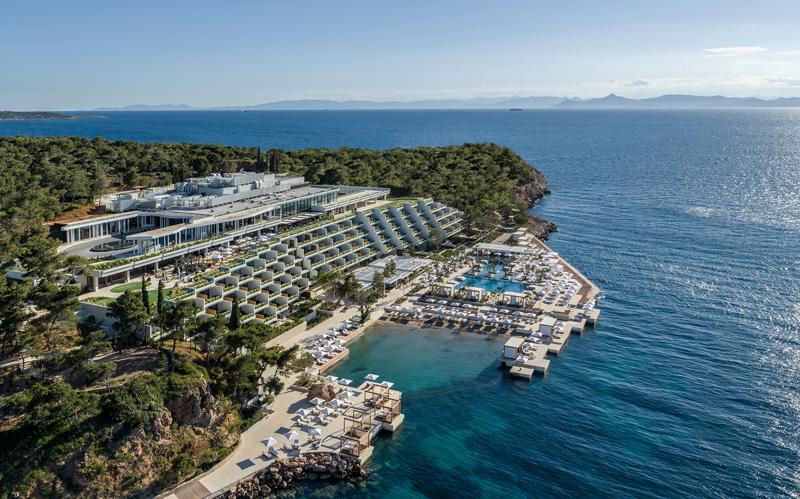 Aerial Overview of the Four Seasons Astir Palace Hotel - Nafsika building
Greece, which has a plethora of experiences to offer, is a warm country with warm-hearted people. Whatever the purpose of your visit, whichever your desires, we can always deliver. Hoteliers are keeping up to date with the latest trends -may those be culinary, technological, or other- discreetly blending them with our local elements, in order to offer our visitors the best experience as seamlessly as possible.
The first surveys already show that Greece is first on the list for many travelers' destination preferences, which really pays off all the patience & hard work during this challenging time in history.
Although most travelers tend to visit from the beginning of April to mid-November, Athens is a City for all Seasons. Being widely known for our Sites & History, the Sunny weather, crystalline waters, picturesque beaches and healthy Mediterranean cuisine, the majority of our guests prefer the Summer Season (and who wouldn't)?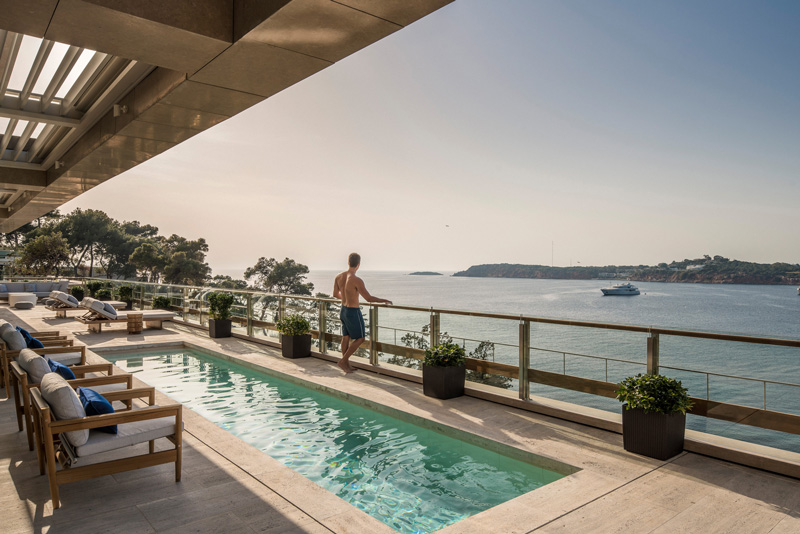 View from Royal Suite
Personally, my all-time favorite month would be September, as the temperatures are perfect at approximately 28 degrees Celsius (82 Fahrenheit), and the sites, shopping streets, and restaurant tables by the sea are not as congested.
MOM.CEO: As a top Concierge, what is your 'secret-talent' that you are best known for?
George Vournasoz: During my 17-year career pathway in the hotel business, I have come to appreciate my ability to "read" people and make them feel comfortable. From the tone of voice, body language, to facial micro-expressions and cluster of gestures. When you understand how another person is feeling, you can adapt your message and communication style to any given situation and make sure it is received in the best way possible. As we hire for character and train for skill, this ability has also contributed to assembling the greatest Concierge team who never ceases to amaze me.
Where necessary, one must become a listener, an advisor, a confidant. Once you get it right, you make yourself approachable and people will open up to you. In an industry that is all about people, (from guests to coworkers, and business partners) I would describe what I like to believe is my 'secret talent' by name, and that is Emotional Intelligence, which I find, is a great trait in our business.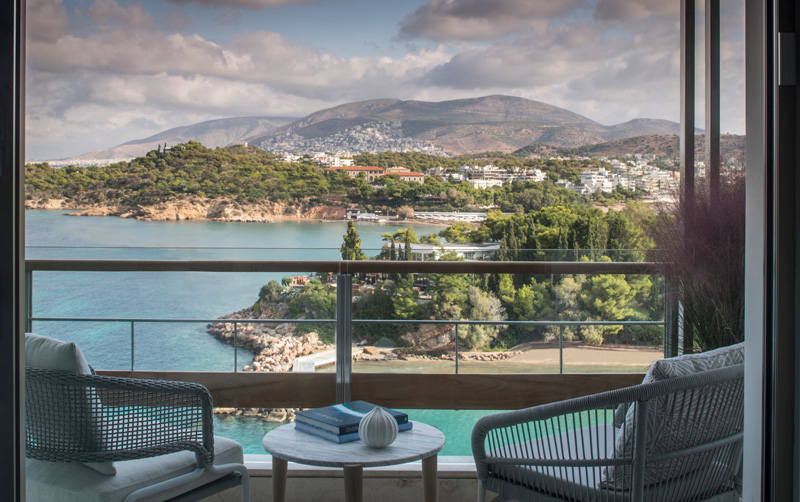 Arion Sea View Room
MOM.CEO: What are the best attractions and why?
George Vournasoz: There are so many attractions in Athens, each with an immense history behind it, which makes it really difficult to mention only a few. If I were to recommend the top 3, I would say the Parthenon Temple, Odeum of Herodes, and Panathenaikon Stadium. All three of them have sculpted and brought Greek civilization to the surface and introduced it to the world.
THE PARTHENON TEMPLE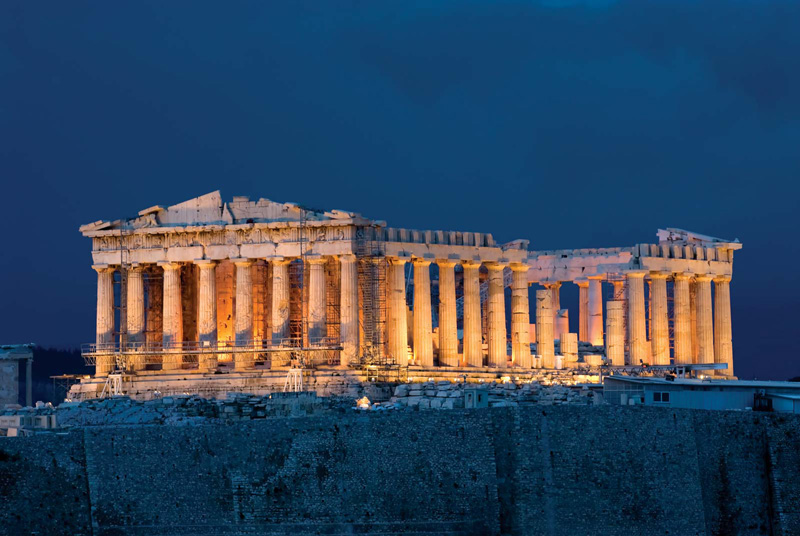 With a history of over 2500 years to date, it is the greatest and finest sanctuary of ancient Athens, dedicated primarily to its patron, the goddess Athena, and dominates the center of the modern city from the rocky crag known as the Acropolis. The most celebrated myths of ancient Athens, its greatest religious festivals, earliest cults, and several decisive events in the city's history are all connected to this sacred precinct. The monuments of the Acropolis stand in harmony with their natural setting.
ODEUM OF HERODES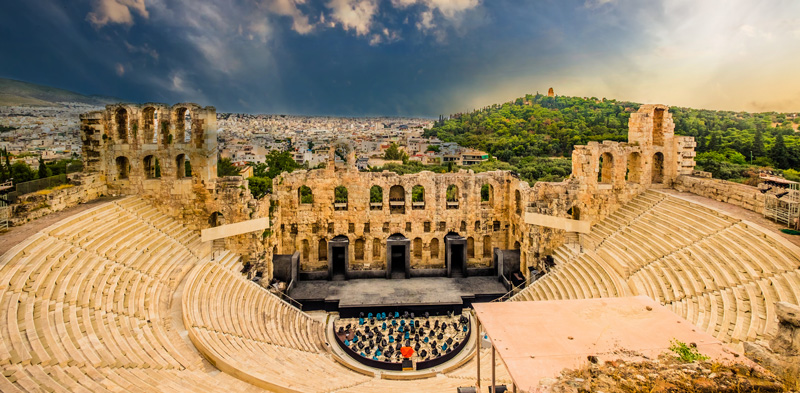 Completed in 161 AD, it was used as a venue for music concerts with a capacity of 5,000. Since then it has been the main venue of the Athens Festival, which runs from May through October each year. Until now, many renowned artists have been hosted in this historic venue, such as Frank Sinatra, Luciano Pavarotti, Sting, Sylvie Guillem, Andrea Bocelli, Plácido Domingo, Paco de Lucía, Diana Ross, Liza Minnelli, Goran Bregovic, Jean Michel Jarre, and many more.
PANATHENAIC STADIUM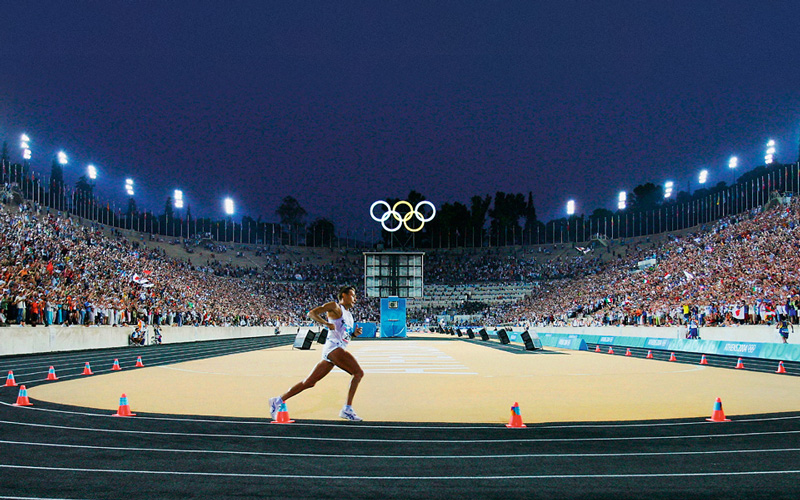 The Panathenaic Stadium, completed in 144 AD with a capacity of 50,000 seats, is the only stadium in the world built entirely of marble. After being refurbished, it hosted the opening and closing ceremonies of the first modern Olympics in 1896. It is the finishing point for the annual Athens Classic Marathon. It is also the last venue in Greece from where the Olympic flame handover ceremony to the host nation takes place.
MOM.CEO: What food to try (local) and which restaurants not to miss?
George Vournasoz: Now, I know this is going to sound like quite a common suggestion, but a properly prepared Moussaka dish will really impress you. Imagine layers of juicy beef mince, sweet eggplants, and creamy béchamel sauce baked to perfection! Rich in calories, but totally worth it.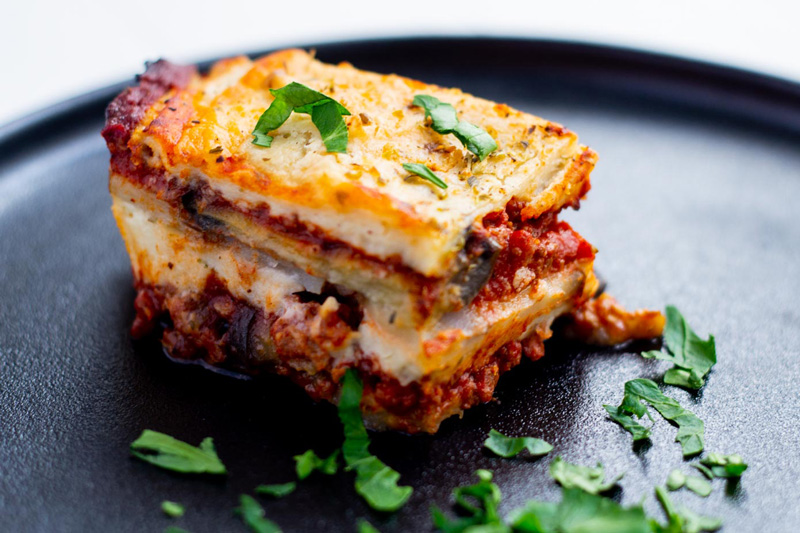 In the past years, the culinary scene in Athens has bloomed, and many new creative ways have been implemented to bring the Greek cuisine to the surface, promoting our local & seasonal products.
There are many great restaurant options both local and International. One may find the best representations of the local cuisine at the following restaurants: Oikeio, Papadakis, Ithaki, Hytra, and Feedel Asador, each with its own distinctive style and ambiance.
MOM.CEO: What are your recommendations in terms of high-end shopping and is there a local brand or designer to watch out for?
George Vournasoz: If high fashion is your passion, Voukourestiou Street is the big-spenders pedestrian paradise. It is home to many luxury brands, as well as jewelry stores. For High-end local designers, visit Patriarchou Ioakeim.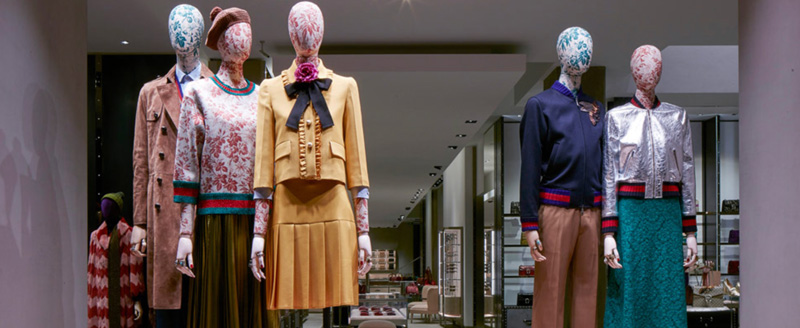 Top five boutiques in Kolonaki: Hermes, Luisa World, Zeus + Dione, Kalogirou, Gucci.
Glyfada is one of the most up-market and chic areas in the southern suburbs. Located right on the seafront, with rows of high-end stores, unique and tempting designer boutiques - even just a stroll and some window-shopping can be very pleasant.
Main streets for your shopping experience: Kyprou Str., Metaxa Str., Lazaraki Str.
Top five boutiques in Glyfada: Ensayar, Rosina perfumery, John Lyras Jewellery, Soho-Soho, Boutique 52
Attica Department Store is located inside a large historical building and has over 360 shops, 860 brand names, and an all-day bar-restaurant.
Top five boutiques in Attica: Dsquared2, Hogan, Ted Baker, Longchamp, Burberry
Golden Hall is a shopping mall that gives its own definition to the shopping experience with high-end boutiques, mainstream retailers, 135 shops, 14 cafes, and restaurants.
Top five boutiques in Golden Hall: 5226 Celia Kritharioti, Brooks Brothers, Kessaris, Porsche, Tumi.
Local Designers: Luisa World, Zeus + Dione, Kalogirou, Celia Kritharioti.
Speaking about high-fashion, discover the exclusive behind-the-scenes look into the Four Seasons Magazine Fall Fashion shoot at Four Seasons Astir Palace Hotel Athens.
MOM.CEO: What is the best reason for choosing your Hotel? Any special characteristics, services, etc.?
George Vournasoz: The short answer would be because of the way we make our guests feel. We therefore always thrive to create long-lasting impressions. In terms of services, we offer everything within the range of legal and ethical limitations. If a service is requested which is not available, we create it and make it available; and we can do that fast, as we have carefully chosen our very capable preferred partners.
We adapt and tailor any service to the distinct wishes of our guests. Other than the Hotel services such as Spa treatments and facilities, Pools & Beaches, Events, 24 hour Room service, Restaurants, Fitness centers, Valet Service, and more, our Concierge Team can also arrange anything from flowers, balloons, and cakes, to scavenger hunts, exclusive admissions to restricted areas, sky diving, wine tasting tours, farm to fork experiences, any type of boat trip, helicopter ride, private Jet (If it has wheels, flies or floats, we can get it for you).
Our location is also a noteworthy ally. The word "NO" is not in our vocabulary and in the same respect, we also assist our colleagues with the same enthusiasm when our services are needed.
"Be You". This is a behavior we are all encouraged to go by, to be genuinely ourselves. That results in a sincere smile and care for our guests and is what makes us who we are, and we are Four Seasons.
MOM.CEO: Any hidden secret places that only locals know about?
George Vournasoz: What about visiting an island village while you're in the center of Athens? It sounds strange, yet it's true! Anafiotika is a tiny, authentic village that you will find inside Plaka. Well off the beaten path of typical tours, this little neighborhood is more like an island village.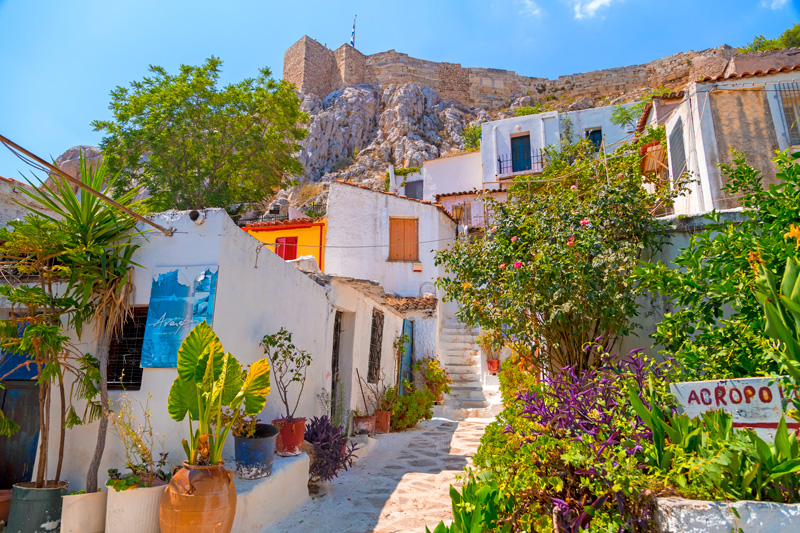 The village of Anafiotika
This district was created in the mid-19th Century, when workers from the island Anafi, came to reside in the area in order to work as builders in the reconstruction of the city, bringing with them the architectural character of their birthplace. You honestly will not believe that you are in Athens when you walk down the narrow-painted streets of Anafiotika.
No matter what itinerary you plan out while visiting Plaka, you will uncover more than the ruins of the ancient Greeks, you will also be enchanted by the locals who reside there today. They carry on centuries-old traditions with their shops and stories in this charming Athenian neighborhood, making it an authentic part of ancient as well as modern-day Greek history.
How many of us have thought about what might be under our feet when we take a walk in the center of Athens? Imagine that in some places there is a secret underground city that very few know. During World War II, Athens, which was inhabited by Germans, was bombed and the population had to protect themselves. Thus, a new small town was created under Athena, with labyrinthine corridors and chambers that would protect the world from air raids and more.
Those are not open to the public, however, we can provide exclusive access to our guests, by arranging tailor-made tours through our preferred partner.
MOM.CEO: Any last tips/advice you believe is important for us to know about?
George Vournasoz:
Tipping: Although highly appreciated, tipping in Greece is optional and therefore not necessarily expected. there is no general rule on how much to leave, so it is completely up to your kind discretion.
Car Rental: All car rental agencies require a valid international driving license. If you do not have an international driver's license, you can apply for one through https://www.e-ita.org/. The process should take approximately 30-40 minutes and you are ready to go.
Have some cash with you: You do not have to exaggerate though. Most of the stores and restaurants will accept credit cards, however, in some cases, cash is preferred for payment. Some places such as small stores may not be able to accept credit cards.
Pack Your Sunscreen: Even before the Summer starts; the sun can be strong in Greece. If you prefer a certain brand, take it with you. You will definitely need it.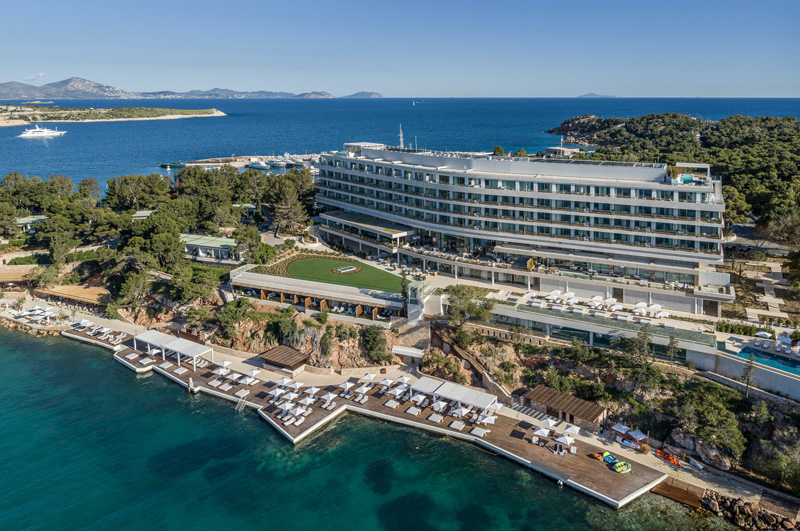 ABOUT GEORGE VOURNAZOS
Chief Concierge, Four Seasons Astir Palace Hotel, Athens - Member of Les Clefs d'Or International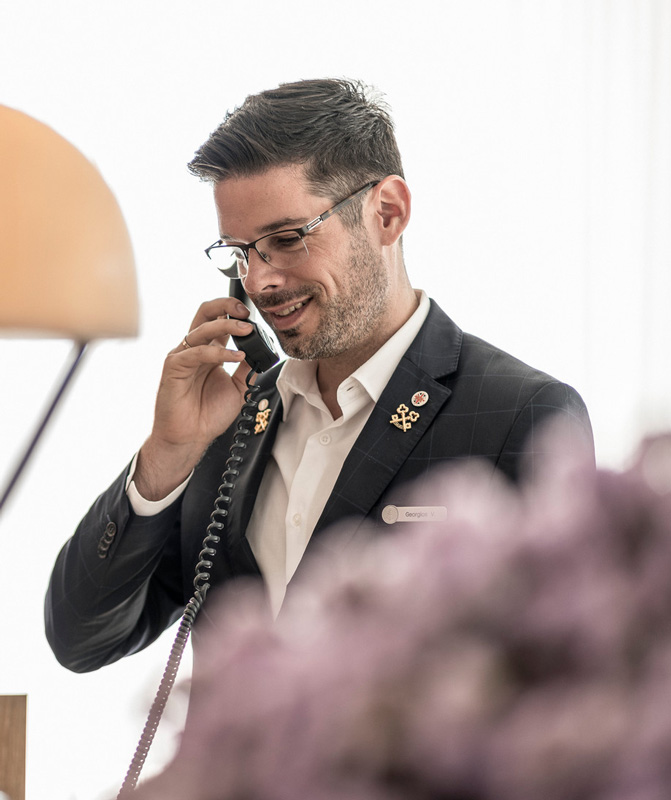 Born in June 1980 and growing up in Athens, I have spent time in nice hotels as I joined my father, a naval architect, on his business travels throughout Greece. What always amazed me was that hotel staff would treat me as politely as they treated adult guests. Even as a 10-year-old, they were always respectful to me. I thought, 'This is where I need to be.'
After finishing school, I embarked on a path to get there, starting with a degree in hotel management despite my father's hopes to take over the family business. We sometimes think we are crazy to make the choices we make, leaving the comfort of a laid-out job and office. I have never regretted it once.
Since 2005, I have been working full-time in 5-star hotels, while gradually building my way up.
PROFESSIONAL EXPERIENCE
George has also worked in his extensive career at other 5-star luxury hotels such as:
Four Seasons Astir Palace Hotel, Athens Pre-opening, and opening, since (April 2018 - Present)
Four Seasons at Ten Trinity Square for 3-month Task Force
Hotel Grande Bretagne Athens
Piraeus Theoxenia
Theoxenia Palace Hotel
Theoxenia House
Chief Concierge, member of Les Clefs d'Or International since 2014
Member of Les Clefs d'Or Hellas Board of Directors since March 2020
George speaks 3 languages: English (Fluent), German (2nd native), Greek (Native)